Monday, November 7, 2011
I always find the most gorgeous big flowers on Pinterest.
When deciding what to use for decorations for a Halloween party, I knew I wanted to make one of them. The problem was the most popular material for big, wonderful flowers is either crepe or tissue paper… neither of which I had.
*I should note that in planning ahead I could have easily picked up some, however this was 2 hours before the party and I was in a serious pinch!*
I DID however have plastic tablecloth that was too big for my table.
Ahh, necessity is indeed the mother of invention.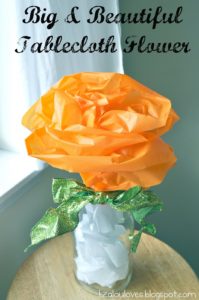 For this craft you will need:
A plastic tablecoth
*any color you want, go crazy!!*
Vase
*I actually used a water pitcher because the curved neck was perfect for holding the flower.
If you don't have one though, you can use a vase with the same structure.*
Crepe Ribbon & Sparkly Ribbon
*the bottom of the flower will not fill the entire vase, so I used the crepe ribbon for a filler.The sparkly ribbon is used because it pretty andwill also cover up the divide between the crepe and flower.Play around with these. There are many different fillers you can use, and ribbon does not have to be sparkly… though it's just so lovely when it is.*

Step 1: Cut a square(ish) shape from your tablecloth. No need to be precise with the lines.
Step 2: Fold the entire square accordian style.
Step 3: Fold it in half so the ends meet.


Step 4: Take the folded end and twist it about half the length of your now folded tablecloth.
Step 5: Fold the twisted portion in half & twist together.
Step 6: Fold it in half again & twist if you can.
**This is going to make a base for your flower so it's able to stay in the vase.**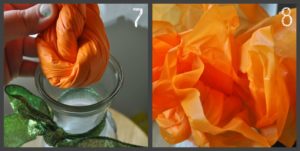 Step 7: Take the base you've created and stick in the vase or pitcher.
Step 8: This is what the ends of the folded tablecloth will look like when in the vase.
Now it's time to get creative! Start by shmuzching the ends of the table cloth that will be your flower. Shmuzching is just my word for fluffing and shaping. There is no exact way to do it, just play around and see what you like.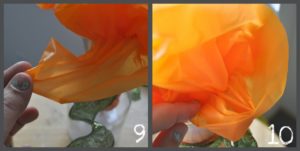 Step 9 & 10: If you like the floral shape, start by forming your table cloth ends around the center. I used some of the ends to create petals, simply by taking the end
and tucking it into the vase.
So pretty!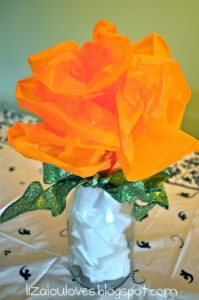 Total cost: 97 cents for the tablecloth… I didn't even use all of it.
Everything else I had on hand already.
A-mazing!
I can't wait to use these for another party.
In pink or blue they would be perfect for a baby shower.
Happy Crafting!
Linked up to:
C.R.A.F.T.
Craftomaniac
Polish the Stars
Running With Glitter
Making the World Cuter
The Girl Creative
Sew Can Do
Sumo's Sweet Stuff
Keeping It Simple
Home Stories A2Z
Tip Junkie
My Backyard Eden
Hope Studios
Sugar Bee Crafts
Today's Creative Blog
---