Tuesday, November 15, 2011
I feel like I've been in a creative slump lately.
Ideas come then go. Some of these ideas I test out, but most of them have turned into epic fails.
I think sometimes your creative vision can get blurred.
You can look and look at something but you just can't see it.
You know that it can be turned into something a-mazing, you just can't see what.
Then today I had one of my friends come over for a visit. We chatted and looked at some awesome 90's craft books We talked about ideas we had about things to make, and about doing some craft fairs in a year or so.
After our visit something seemed to just click. It seemed like all of sudden I had five ideas for headbands I wanted to make. I knew what I wanted them to look like and how I was going to make them. I then sat down and actually made one, and it turned out how I wanted it to on the first try!
It took all my willpower not to shout
HALLELUJAH!
So, for all those in a creative slump, keep trying.
No matter what your vision will always clear and something will always click.
Here it is, the felt flower headband: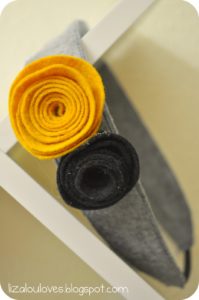 Isn't it just lovely?
Aww, felt. There is a reason I love you so much. You just make everything gosh darn adorable.
These flowers are similar to the ones in the tutorial I did here.
To achieve the look of the flowers in the headband, don't scallop the edges.
I will also be posting a tutorial for the headband soon.
They are super easy and absolutely perfect for winter!
Happy Crafting!
There is still 4 more days to enter the Crafting Over Sweeting giveaway.
Go here to enter!
Linked up to:
Fabric, Bows, & More
Lil' Luna
My Girlish Whims
Sew Much Ado
Blue Cricket Design
Organize & Decorate Everything
Mommy by Day, Crafter by Night
the Creative Itch
We are THAT family
JAQS Studio
Southern Lovely
Someday Crafts
Rae Gun Ramblings
Between U & Me
---
Karen
November 16, 2011 at 9:02 AM
So cute! I love the black grey and orange together! I get in creative slumps too. I always get myself out. We just can't give up! Have a great week!
Karen@PocketFullofPink
---
marissa
November 16, 2011 at 10:10 PM
This turned out great I'd love you to add it to my link party at http://raegunwear.blogspot.com
---
Between U & Me
November 17, 2011 at 11:07 AM
I LOVE this! I would love if you would share this at the Crazy Cute link party happening at Between U & Me right now! I've got a totally awesome giveaway this week, too!
OOH! AND, I'm your newest follower! 😉
www.betweenuandme.com
---
EvA. . .
November 17, 2011 at 3:07 PM
oh what a cute headband! Love me some felt:) found u over at Vintage GWen! Happy new follower:)
---
Jennifer
November 22, 2011 at 12:41 PM
Very, very cute!!
Thanks for sharing at Show & Share!
---