Saturday, October 22, 2011
It feels so good to be back blogging again!
The past week has been a little crazy. We're getting ready for things which I can't go into a lot of detail about (I'm a military wife though, so you could probably guess from that.).
There is a lot of stuff we have needed to get done, and a lot of time we needed to spend as a family.
I have managed to still be crafting though, even involving my husband and kids along the way.These next posts are going to be the last ones for the Crafting Over Sweeting Challenge.
It's a little bittersweet and I can't believe the 21 days are over, but more on that later.
This post's featured craft is:
Yummy Creamy Beef Stew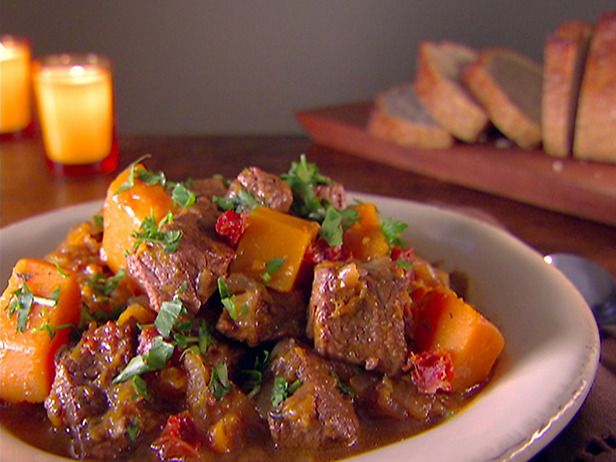 picture & recipe inspiration courtesy of Italian cooking goddess, Giada de Laurentiis.
** I couldn't even snap a picture of mine, the family had it gobbled up before I could!
So, imagine this picture with lovely, creamy sauce.**
I consider cooking a craft. To me, it's just another way to get your creative juices flowing.
When I stumbled upon this Beef Stew recipe by Miss Laurentiis I knew I had to try it.
Her recipes are fantastic and oh so flavorful. When I started cooking it though, the creative juices started to flow. The end result was a combination of lack of ingredients, preferred taste, and things I just needed to use, that resulted in something utterly delicious.
Pair this stew with these, I you got your self one heck of a dinner!
**The ingredients/instructions in BLACK are from the original recipe, the ingredients/instructions in TURQUOISE are my own add-ins or substitutes.**
For this craft you will need:
3 tablespoon olive oil
1 onion, peeled and chopped
2 cloves of garlic, minced
1 teaspoon dried rosemary
1 teaspoon dried thyme
2 pounds stew beef, cut into 2-inch cubes
1/2 teaspoon salt, plus more to taste
1/2 teaspoon freshly ground black pepper, plus more to taste
2 Tablespoons all-purpose flour
1 can of French Onion soup
2-3 cups of butternut squash, trimmed and cut into 2-inch cubes
4 carrots, peeled and chopped
3 potatoes, peeled and chopped
2 cans of beef broth
1 cup heavy cream
1 Tablespoon cornstarch
Directions:
In a large soup pot heat 3 tablespoons of olive oil medium heat.
Add the onions, garlic, rosemary, and thyme and saute until the onions are tender, about 2 minutes.
Toss the beef cubes in salt and pepper and flour.
Turn up the heat to med-high and add the beef to the pot. Cook until the beef is browned and golden around the edges, about 5 minutes.
Add the can of French Onion soup. Using a wooden spoon, gently stir up all the brown bits off the bottom of the pan.
Add the butternut squash, carrots, and potatoes. Stir to combine.
Add enough beef broth to just cover the beef and squash. Bring the stew to a boil over high heat, then reduce the heat to low and simmer, covered, for 1 hour.
After the stew has simmered, combine the heavy cream and cornstarch in a separate bowl. Make sure there are no lumps left.
Add the cream and cornstarch mixture to the stew and heat until thick, bubbly and delicious.
Mmmm… so perfect for a cold day.
Happy Crafting!
---