Wednesday, November 16, 2011
Hello everybody! Welcome to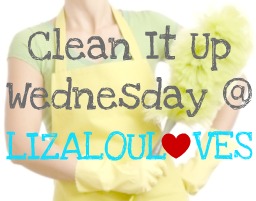 Whoo! Things have been a little crazy this week. I'm trying to get so many things done before we leave on vacation that I almost forgot it was Wednesday! Thank goodness I remembered because I have been so excited to share this next room.
This week's featured room is
The 4th Bedroom
(or Craft Room)
I feel like I need to insert a "Bum bum bum" sound here. Our fourth bedroom has truly been the bane of my house cleaning existence. It deceived me by making me believe it could just be used to hide my messes.
"It's okay, dump whatever you need to. You can always close the door. It's like I'm not even here," it would whisper seductively in my mind.
Evil, pure evil I tell you!
It has been my secret little room that I just wanted to keep locked up and never show anyone, EVER.
I then decided I couldn't take it anymore. The room looked like it could be right at home on a hoarder tv show, and I knew I would just have to roll up my sleeves and clean it.
So I did.
Here it is: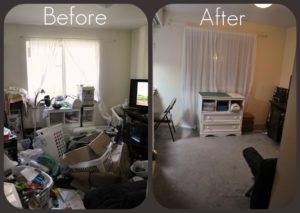 Pretty great, right?
Neat and organized crafting corner. LOVE.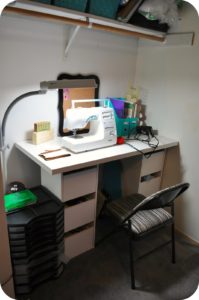 Place to cut and store my fabric. Also LOVE.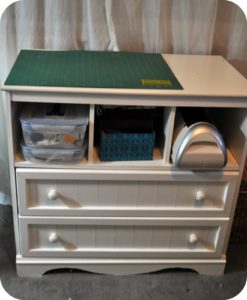 I must tell you that I tried to time myself, I really did. It just got a little depressing.
I will tell you this, this project took me about a day.
I would say maybe 3 or 4 hours altogether, but I didn't do it all at once.
I would work on it for an hour or so and then go do something else.
Doing it that way kept me from getting discouraged, and I think it also kept me sane.
Tips & Tricks:
-Like I said above, take your time. If you can do 3 hours at a time, then you should. If you can only do 30 minutes at a time, then you should. Do whatever works for you. If you feel yourself getting discouraged, STOP working and take a break.
– I liked to focus on one task at a time, some of these were: picking up all the clothes, picking up all the toys, throw away any trash, put away any crafting items. When I was able to focus on just something little I was able to stop focusing on the bigger mess at hand.
-Organize, organize, organize. As you can see I had about two desks I was able to store any crafting items in and it was a BIG help when it came to putting things away. I also had about 4 laundry baskets so I could sort, carry and put away any items that didn't belong in the room.
I hope this was helpful. I know it can be hard and discouraging when faced with a huge, beyond gigantic mess. Just remember it CAN be clean. It might take just a little time, but it can be.
Have a good week and
Happy Cleaning!
---
Reba
November 17, 2011 at 4:07 AM
Nicely done Eliza 🙂
---
Meredin
November 17, 2011 at 8:51 AM
Good Job Eliza, It encourages me to tackle my laundry room.
---
Celiece
November 17, 2011 at 11:56 AM
Thats how I had to do my basement last week, just a little bit at a time, it was gross!
---
LIZALOU
November 17, 2011 at 4:52 PM
@Reba- Thank you! I saw your home transformation and loved it as well. Way to go!
@Meredin- I've been wanting to do my laundry room for a while. Let me know how it goes and send me any tips you have!
@Celiece- I know how that feels. Doesn't it feel good to have it all clean??
---
EvA. . .November 17, 2011 at 5:55 PM
yay looks good thank you for the tips!!!
---