Thursday, November 7, 2013

I have a confession.  I've been having a pity party for the past couple of days… and not even a good one.  It was celebrating basic everyday things like how I have a cold, how the kids have colds, how none of them have been sleeping through the night, how I haven't been sleeping through the night, etc.  There wasn't even Ben & Jerry's, and it's just not a good pity party if Ben and Jerry aren't there.
Anyways, I've been so self-involved that I haven't even visited my little blog for a couple of days. So, I'm finally cancelling the party (it was a stinker anyways) and I'm going to post about something I love.  Something that always makes me happy…
BABY SHOWERS
&
FREE PRINTABLES
(cause honestly, who doesn't love babies?  and free printables?  It's really a win-win.)
I had the pleasure of attending a baby shower a couple of weeks ago.  Like I said, I love baby showers!  The clothes alone are enough to send me into a fit of OOoooh's  and AAaaaww's.  Might I insert here that boy clothes have gotten SO much cuter since I had my boys.
For this shower I was asked to prepare a couple of games.   I found this game from the blog PINK TEA that I absolutely loved.  I thought it was so creative and would be a fun game for the party. Since this shower was for a baby boy, I wanted to create a printable that had boyish colors… and then I designed one that was a little more girly just for fun :).
Feel free to download this printable HERE
Feel free to download this printable HERE
(The answers for this game are as follows: 1. Green Eggs and Ham 2. Goodnight Moon 3. Velveteen Rabbit 4. Three Little Pigs 5. Sleeping Beauty 6. The Ugly Duckling 7. Are You My Mother? 8.  Brown Bear, Brown Bear, What Do You See?  9.  Where the Sidewalk Ends 10. Go Dog, Go 11. The Very Hungry Catepillar 12. The Cat in the Hat 13. Where the Wild Things Are… there is also a 14th question that I couldn't fit in, so go check out the Pink Tea blog to find out what it is!)
The next game I came up with was a game I like to call:
"Can You Guess, More or Less?"
For this game you will need to buy some baby items (Make sure to keep the receipt, you will need it for later!)  I bought eight items and I tried to keep them roughly around the same price, within one or two dollars.   Then, calculate the average cost for all the items.  Mine came out to $3.74.
At the shower each person gets an arrow paddle, with the arrow pointing up on one side and down on the other.
Take out one item at a time and ask them to raise an up arrow if they think the item's price is MORE than the average price or a down arrow if the item's price is LESS than the average price.
The person with the most correct answers gets a prize!
To make the paddles, simply print out the arrows
*I print two images per page*
Feel free to download this printable HERE
Feel free to download this printable HERE
Once you have your images cut out, gather some jumbo crafty popsicle sticks and glue.
*I used peel and stick glue dots because the are just so darn easy to use.*
Now just fold your cutout arrow image in half.
Next, glue the popsicle stick in the middle…
and you're done!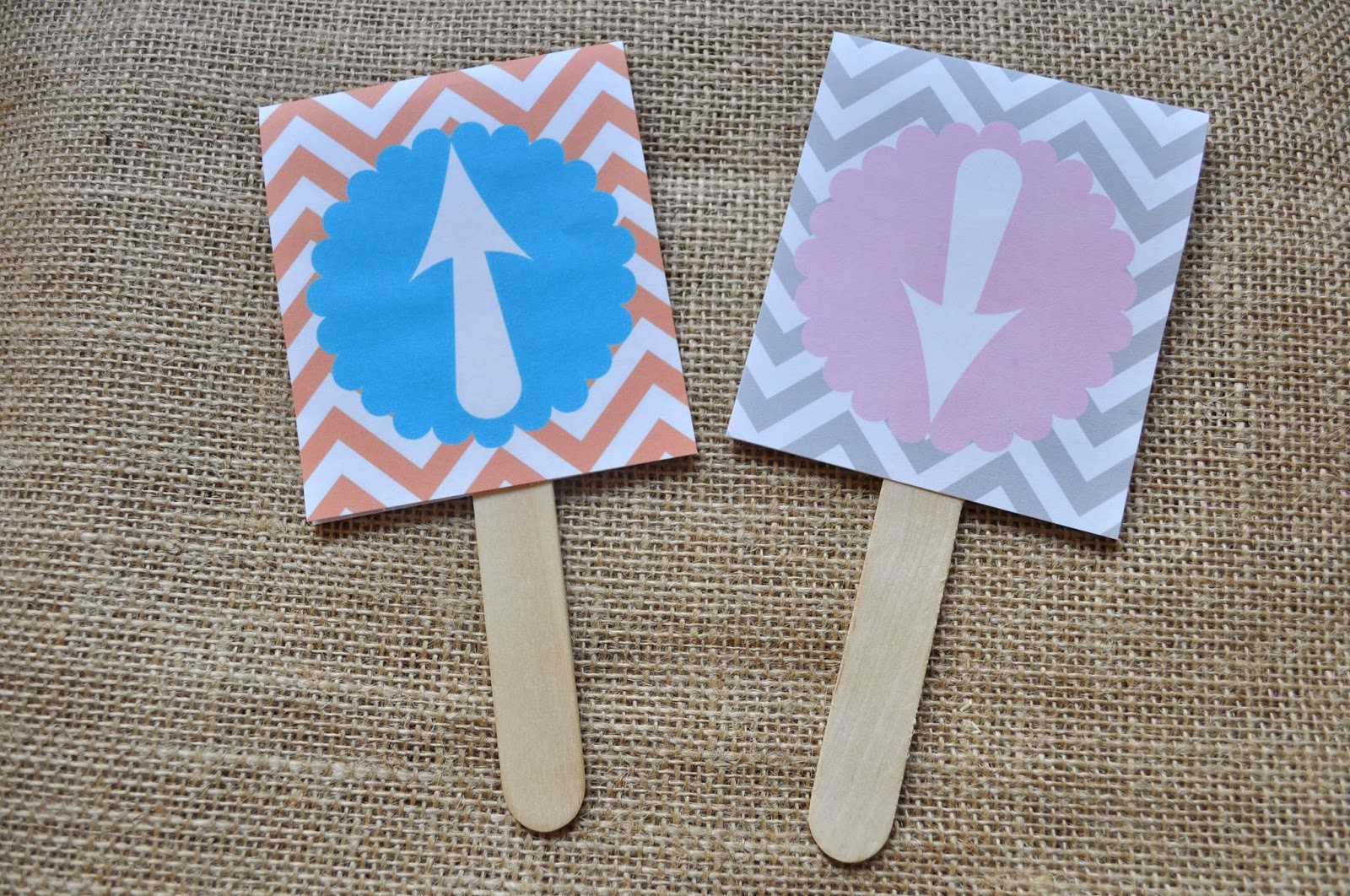 Seriously, baby showers are just the best :).  Now I'm off to locate some Ben and Jerry's. My pity party may be over, but my craving for delicious ice cream is eternal.
Happy Crafting!!
---